Holiday flats near Rothenburg o.d.T.
With best connections to many interesting places in Franconia
Welcome to our jewel of gem!
We have restored this proteced half timbered house from 1872 according to ecological and historical authenticity aspects.
It offers 2 individual holiday flats with exalted accomodation standards. The flats are affectionately equipped with restored wooden furniture. Each holdiday flat  has a separate entrance.
In our craftsman' s workshop, located in a former sheep shelter, you can try and deploy your creative skills with pottery, wreath binding, felting wool ...
There are a lot of playing possibilities for the kids.
Goats, rabbits, cats and our dog Timo loves to be caressed by your kids.
In our cosy orchard, you will find peace and relaxation under shady trees near the goldfish pond. The entire well kept farmyard with lots of flowers and greens invites you for a liltle chat and a "get together" right in front of your entrance door.
You can also join us to our own vineyard located at the beautiful slopes of Tauber-­Valley.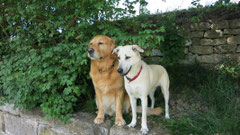 Docs are welcome – our dog Barney and Kaja will be pleased!